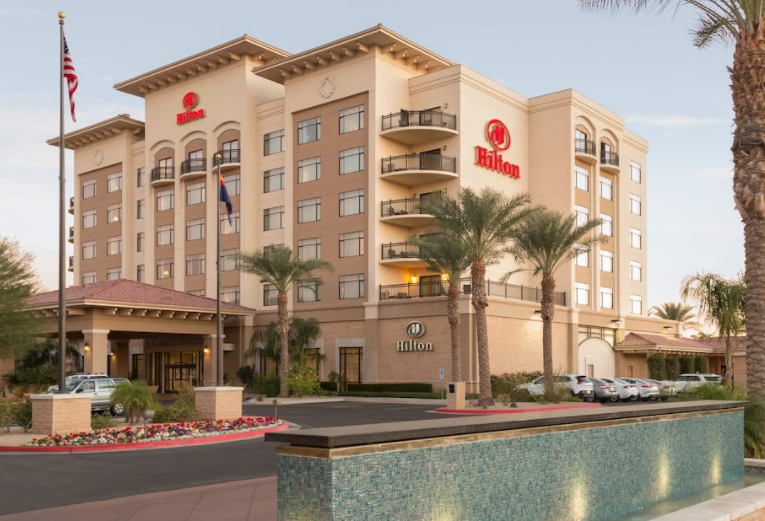 PGA/USGA ROOM RATE:
$139/night – a limited block of rooms is being held for workshop attendees at this
rate. If you intend to stay at this hotel during the workshop, it is strongly
recommended you make your reservation a soon as possible. If all rooms in the
block become reserved, additional rooms may not be available at this or a higher
rate. On September 26, 2019, any unreserved rooms will be released back into hotel
inventory.
To book, call (480) 899-7400 – reference 2020 PGA/USGA Rules of Golf Workshop
To book online, click here
NEARBY AIRPORT(S):
Phoenix Sky Harbor International Airport (PHX) – 17 miles away
Please call your hotel for local shuttle services to and from airports.
Transportation from local hotels to the Hilton Phoenix Chandler is not
provided.
BREAKFAST and REFRESHMENTS:
A complimentary continental breakfast, including at least one hot item, will be
provided each morning starting by 7:10 a.m. During scheduled breaks,
complimentary coffee, tea, water and soft drinks will be provided.
EXPENSES:
You are responsible for the cost of your transportation, lodging, and incidental
expenses. Additionally, you are responsible for all your food and beverage
expenses, except as otherwise detailed above.
DRESS CODE:
Business casual recommended (i.e. sport jacket or sweater, collared shirt,
tie for men not expected). Please no blue jeans, sweatpants or t-shirts.